Water wheel to provide power at Dean Heritage Centre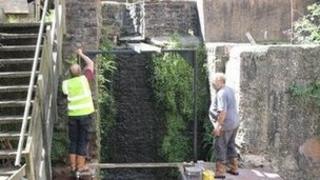 A museum in Gloucestershire is preparing for the installation of a new water wheel to generate its own power.
The Dean Heritage Centre hopes the water wheel and new hydropower generator will improve energy performance and sustainability.
The wheel will be connected to the national grid to offset the museum's annual energy costs.
The project has been partly funded with a £10,000 grant from the government's Big Lottery Fund.
The wheel will also have an educational use with a schools programme focusing on its restoration and the use of green technologies.
An old water wheel at the site is currently being removed, and supporting plates for the new wheel installed for its arrival in early September.
A spokesman said: "From a green perspective we will be reducing our carbon footprint and generating around £8,000 towards our energy costs per annum.
"From an educational view we will have the machinery that is hooked up to the water wheel to show how industry used the power of the water wheel to run machinery."