Cirencester Roman amphitheatre revamp 'could cost £1m'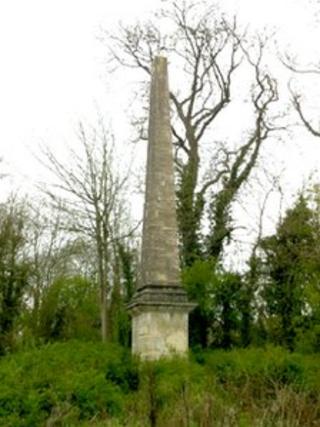 Plans to revamp Cirencester's Roman amphitheatre and surrounding area could cost up to £1m, according to a campaign group.
The Friends of the Amphitheatre group is working with Cirencester Town Council on the project to improve access and erect new information signs.
Part of the scheme would also see the restoration of the historic Chesterton Obelisk which is in woodland nearby.
The group's Andrea Pellegram said funding was currently being sought.
She said: "We just got some money to plant some trees but we need a whole lot more.
"To realise this project we'd probably need between £700,000 and £1m from beginning to end. We're looking at every option."
'Unknown' attraction
Mrs Pellegram said the site was "unknown" to most people, and it deserved to become a major tourist attraction in the area.
She said: "That's what the project is all about, to get more people to know that it's there, and be able to get access to it and enjoy it and understand what it is."
The earthworks, which still exist near to the centre of the town, are the remains of one of the largest Roman amphitheatres in Britain.
It was built in the early 2nd Century in the city of Corinium, which is now modern day Cirencester, and had a capacity of about 8,000 spectators.
The site is classified as a scheduled ancient monument.
The project also includes plans to create a walkway into the amphitheatre from the 15m-tall (50ft) obelisk, and a car park would be restored.