Gloucester Antiques Centre closure 'due to low footfall'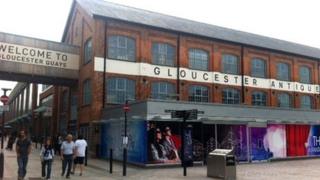 The man who runs Gloucester Antiques Centre, which was closed on Monday, has said not as many people have visited Gloucester Quays as was promised.
Evan Maindonald, whose company leases the building in Llanthony Road from Gloucester Quays, said trade levels were less than needed to pay the rent.
On Monday Peel Holdings, which owns Gloucester Quays, terminated the lease on the centre.
Nobody from Peel Holdings was available for comment on Friday.
Mr Maindonald said: "We have been in negotiations with the Quays about the lease for some considerable time.
"This is due to the levels of footfall at Gloucester Quays not being at the levels promised.
"This resulted in levels of trade and dealer rents being significantly less than required in order to meet the rental levels demanded by Gloucester Quays."
He said he had not been able to communicate with Gloucester Quays since Monday about the possibility of the centre being reopened.
"We remain willing to engage in dialogue with Gloucester Quays regarding the reopening of the centre, should they decide to engage.
"We can do nothing more to facilitate the reopening of the centre until we hear from them," he said.
Gloucester Quays centre manager Richard Rawlings said on Monday: "Peel Outlets are committed to an Antiques Centre remaining at Gloucester Quays and we believe the centre will thrive with the right management, investment and marketing support.
"The Antiques Centre has benefited from on-going year-on-year increases in footfall and is ideally positioned to take benefit from the three million visitors in 2013 that will rise to four million in 2014."
Eighty antiques dealers operate from the centre, which opened in 1978.
It moved to the Llanthony Road premises in 2009.