Carol Vorderman completes 'historic' solo flight in Gloucestershire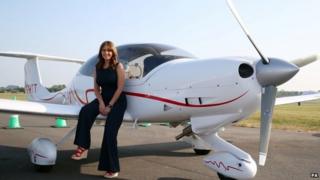 Carol Vorderman hopes to have made aviation history after making her debut solo flight live on television.
The presenter, 52, completed a five-minute flight taking off and returning to Gloucestershire Airport.
It was part of her training to fly around the world on her own, following the path of aviator Amelia Earhart.
Ms Vorderman wants to become the fastest ever person to progress from first solo flight to global solo flight, in about 18 months.
She has been learning to fly at Staverton Flying School in Gloucester.
"It's fantastic. It's everything that I wanted it to be," she told the BBC.
"This is just the very, very beginning of a year to 18 months when I'm going to fly solo around the world following Amelia Earhart's route."
Aviation hero
She plans to get her private pilot's licence in September, and will then start more rigorous training which will lead to her commercial pilot's exam.
She will then be able to attempt her single-handed round-the-world flight covering Amelia Earhart's route, who is one of Ms Vorderman's heroes.
"It's been slightly quicker because Carol wants to learn intensively," said Kathryn Williams, owner and chief instructor at Staverton Flying School.
"She has brought her own flying instructor with her, who we've now employed at the school, so she's coming every day but we're doing it very quickly".
Ms Vorderman's round-the-world flight, which is 29,000 miles in length, will include overnight stops in Cuba, Mexico, Sudan, Malaysia and Pakistan.
Amelia Earhart never completed her global flight - she mysteriously disappeared while flying over the Pacific in 1937.