Gloucester Antiques Centre shut after lease terminated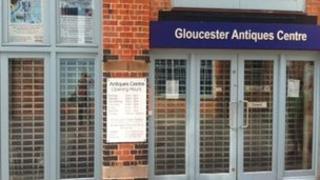 Gloucester Antiques Centre has been closed putting 23 staff jobs at risk.
Peel Holdings which runs the Quays Shopping Centre said it had terminated the lease on the centre and is looking for new management and investment.
Staff and dealers said they had not been told what was happening and had arrived at work to find the door to the centre padlocked.
A statement from Peel Holdings said it is "committed to an Antiques Centre remaining at Gloucester Quays".
"Gloucester Quays Management have today effected the forfeit of the lease on the Antiques Centre," said Richard Rawlings, Gloucester Quays Shopping Centre Manager.
"We believe the centre will thrive with the right management, investment and marketing support."
Eighty dealers operate from the centre which opened in 1978.