Chedworth Roman villa mosaic excavation to begin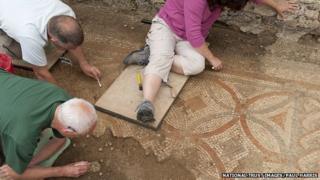 A new archaeological dig is to take place to uncover floor mosaics at Chedworth Roman villa in Gloucestershire.
The mosaics in the north range were last uncovered in the 1960s but records of the dig have not survived.
Experts want to assess the state of the archaeology that still survives, to establish what further excavations and conservation work should take place.
Visitors will be able to watch the dig taking place between 19 - 30 August.
National Trust archaeologist Dr Martin Papworth, who is directing the excavations, said: "Our aim is to evaluate the nature and quality of the surviving archaeology and see what other excavations will be needed both in archaeological and conservation terms.
"We know this area was dug just over 50 years ago but records haven't survived.
"We believe the mosaics and remains on the north range are at least as extensive and interesting and those now protected by the new west range building, so we want to assess exactly what is there and decide how best to protect them.
"If we are able to build another cover building, these digs will show exactly where to place it and how big it would need to be to protect the most important and fragile remains in this part of the villa."
Archaeologists have been working since 2010 on a project to uncover mosaics at the villa.
Last year a new conservation building over the west side of the site, which includes suspended walkways to allow viewing of the mosaics, opened to visitors.