Tewkesbury council's revised sandbag policy criticised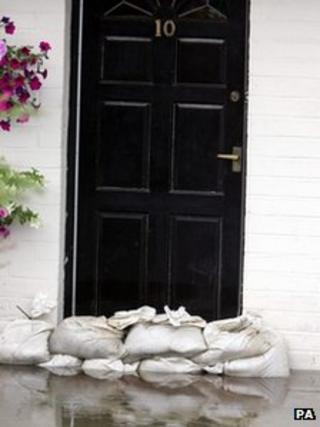 Revised plans for the provision of sandbags during severe flooding in Tewkesbury have been criticised by the Flood Protection Association (FPA).
The FPA said sandbags were outdated and the money would be better spent on more modern prevention measures.
Tewkesbury Borough Council is to have sandbags at several locations rather than one, claiming it will halve costs.
The FPA said better methods would be airbrick covers and flood protection doors.
Last year the council spent almost £20,000 providing filled sandbags but it reckons this figure could be cut, during future flood events, to £8,500.
It said cost reduction would be largely down to doing away with contractors being paid to deliver sand and sandbags and also workers having to fill and supply them.
Mrs Dhonau, chair of the FPA, said: "I'm disappointed that Tewkesbury Borough Council has reduced the amount of money it's spending.
"The council could spend that money, year on year, and purchase some generic flood protection doors and airbrick covers and have them in a central store, give them to people to use during a flood, collect them back, hose them down and have them there to use again.
"They have been kitemarked - tested to government specification - and they would be a far better way of spending money and protecting properties than the humble, and dare I say inefficient, sandbag."
However David Steels, the environmental health manager for the council, said the new policy was "never about the money" as the actual cost was not for raw materials but how the sand and sandbags were delivered to people.
Their aim he said was to ensure "sandbags are given to people in the event of a flood emergency much quicker than they probably were previously".