Hillfield Gardens gates in Gloucester restored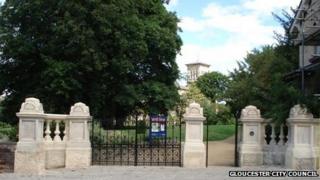 A set of 150-year-old gates in Gloucester has been restored.
The entrance to Hillfield Gardens in London Road has had a makeover as part of a Gloucester City Council scheme to renovate structures in local parks.
The gates, and the nearby Hillfield House, are Grade II-listed and are situated in a conservation area.
The scheme has cost £14,000 from funds provided by developers to be used for projects that benefit the local community.
A local stonemason cleaned and repaired the stone piers supporting the gates, and new balustrading was fitted.
The metal gates were also cleaned, repaired and repainted by a specialist company.
A spokesman said: "When the work was originally carried out we estimate that a single blacksmith would have taken six to nine months to produce each gate leaf.
"That implies that approximately two years of dedicated time was employed to produce the assembly at London Road."