Firefighter uses TV show advice to deliver baby safely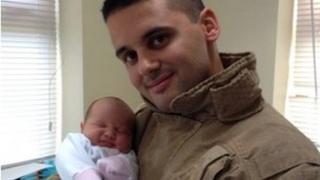 A firefighter says he safely delivered his baby daughter after using knowledge gained from a television documentary about childbirth.
Adam Taleb, 33, from Cheltenham, used what he had learned from the Channel Four show One Born Every Minute.
His wife Lisa, a 29-year-old nurse, suddenly went into labour on 1 August, two days before her due date.
Mrs Taleb gave birth on the dining room floor to their baby, Georgia Lily, using two paracetamol for pain relief.
Waters broke
She called Gloucestershire Royal Hospital when her contractions were six minutes apart but was told only to come in when they got more frequent.
Mr Taleb gave his wife the painkillers at 21:50 BST and ran a bath for her but before he could fill the tub he heard her scream and then her waters broke.
He called 999 for an ambulance but before it could arrive Georgia was on her way and an operator talked him through the delivery. Georgia arrived 20 minutes later, weighing 7lb 7oz.
Mr Taleb, a firefighter for 13 years, said: "With each contraction I could see more and more of Georgia's head and on the next contraction Lisa pushed and the baby came out.
Full cry
"I just remember from watching One Born Every Minute that you have to get them breathing.
"With our first child, the midwives did all of that stuff and I just remember that you need to get their circulation going and get them breathing for themselves.
"I held the baby and rubbed her arms and legs and I had a massive sigh of relief when she had a full cry.
"It's always harder when its your own loved ones but experiencing lots of other people's trauma, you learn not to panic because the job is not going to get done any quicker.
"So relax, keep calm, get the job done and afterwards you can sit down and think about it."
Georgia's elder brother Jack, aged three, slept through the panic downstairs and woke the next morning to discover he had a baby sister.