Chalkhill blue butterfly found at Slad Valley reserve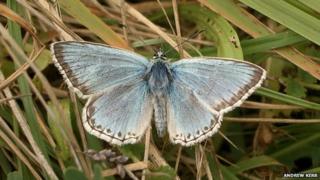 The chalkhill blue butterfly has been recorded for the first time at the Snows Farm nature reserve near Stroud.
Gloucestershire Wildlife Trust, which owns the Slad Valley reserve, said it was "excited" by the discovery during a good year for butterflies.
The trust has also reported numbers of the rare large blue butterfly having doubled in a year at its Daneway Banks reserve eight miles away.
The butterfly was declared extinct in the UK in 1979 and later reintroduced.