Cotton Motorcycle Company commemorated with wall plaque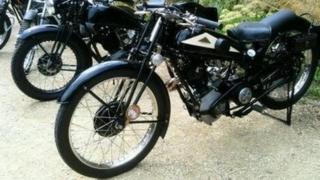 The former Gloucester motorcycle manufacturer, Cotton, has been commemorated with the unveiling of a plaque.
It took place at the City Folk museum, close to where the factory once was, and marks the firm's contribution to the county's manufacturing industry.
The plaque, on the rear wall of the museum, was unveiled at lunchtime following a short ceremony.
The Cotton Motorcycle Company was founded in the city in 1919.
It moved to Bolton in 1978 but closed down two years later.
The factory was originally based behind the museum where there is now a car park for council offices.
Speaking after the unveiling, Charles Cotton, whose great uncle formed the company, said the plaque marked the spot in Quay Street where the first works were established.
"The Cotton was Gloucester's local bike and its unique triangular frame gave it an advantage over the other 1920s bikes.
"It enabled them to come first, second and third in the Junior TT in 1926 because they were more stable than the other motorbikes of the time," he added.