Gloucester council increases 'do not feed gulls' signs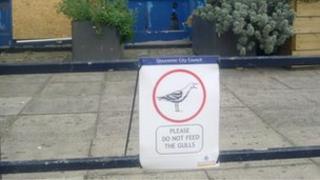 Signs asking people not to feed gulls in Gloucester city centre will not solve the problem, a local politician has said.
More gulls are looking for food in the centre since preventative measures were put in place to stop them feeding at the nearby Hempsted landfill site.
Lib Dem Sebastian Field said signage was a "deflection from the problem" and culling should be considered.
There are six permanent signs and the council is adding 40 temporary ones.
'Dive bombed'
Mr Field said: "The seagull problem in Gloucester is a perennial problem - but the numbers seem to be higher than ever this year.
"Putting out signs seems to be a deflection from the problem, I think most people would have the common sense not to feed them.
"Everyone in Gloucester has been dive bombed at some point. It puts visitors off and has a major impact on tourism."
Conservative councillor Sajid Patel said: "The birds have lost their main source of food.
"They are hungry and looking for alternative food sources, which is why we have been working with local businesses to ensure waste put out in the city centre is secured from the birds.
"We urge visitors to the city centre to help us to continue the work to prevent the numbers of birds in the city by not feeding the birds."
The council said the temporary signs would be in place during the summer season and added that anyone dropping food litter could face an on the spot fine of £80.