Gloucestershire Airport boosts pilot training capacity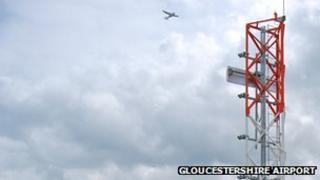 Gloucestershire Airport has increased its training capacity for commercial pilots with the delivery of new airport landing technology.
The Instrument Landing System (ILS) uses radio and lighting to guide aircraft to land in poor weather.
Managing director Mark Ryan, said: "We see this primarily as a training aid for pilots of the future."
As part of the planning rules, the airport will continue to work within specified carbon footprint limits.
The ILS project has cost £3.9m and has taken seven years of planning and two years to install. This landing system is used by airports across the world and is considered as an industry standard.
The airport has chosen the training market as it offers an alternative, smaller venue for commercial pilots.
They normally gain their experience at larger, busier airports but this often means facing delays and restrictions as they are so busy.
"We came up with an agreement where we would limit ourselves to a carbon footprint which we wouldn't exceed at any point," said Mr Ryan.
"We're quite confident we can still achieve that purely on the emphasis of shifting from the smaller, lighter aircraft to the more corporate aircraft - bigger and better quality airplanes than the smaller ones."
The airport normally sees between 75,000 to 95,000 flight movements a year, making it the 11th busiest airport in the UK.