Tewkesbury hospital opening delayed by 'technical issues'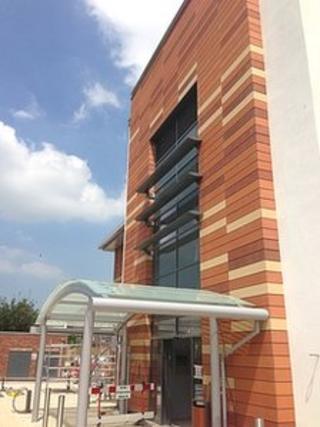 The opening of a new £10m community hospital in Tewkesbury has been delayed by a "number of snagging issues".
Gloucestershire Care Services NHS Trust had announced patients would be transferred from the old neighbouring hospital this weekend.
But it has now said it could not take over the new building until a number of "technical issues" have been resolved.
Susan Field, from the trust, said the move would be delayed until the work was "completed to our satisfaction".
The new £10m hospital was built after facilities at the current site in Barton Road became outdated.
It contains 20 in-patient beds, a minor injuries unit, an operating theatre and an assessment and rehabilitation unit.
'No completion date'
Ms Field said by delaying the opening it would assure the new facilities met "the highest standards in terms of quality and safety".
"At this stage, we do not have a completion date - but we will be working hard to make sure we can be fully up and running as soon as possible," she said.
"So, for the time being, we will continue to run our outpatient clinics from the present hospital site and we will be working closely with GPs and colleagues in the wider health community in Gloucestershire to make this as smooth as possible."
The old hospital, which has treated about 30,000 patients a year, is due to be demolished after the transfer of patients is finally completed.