Jet Age Museum in Gloucester to open later this month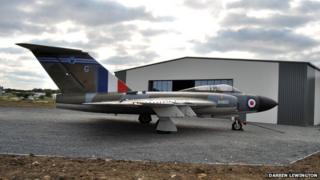 Gloucestershire's Jet Age Museum is to reopen later this month, almost 13 years after it closed.
Work on a new hangar at Gloucestershire Airport in Staverton has almost finished.
The museum will house delicate aircraft, such as a 1925 Gloucester Gamecock, and contain archive photos and documents.
From 24 August it will be open to the public, and initially will be open at weekends and on bank holidays only.
Chairman John Lewer, who has been involved with the museum for 20 years, said: "It's fantastic, absolutely fantastic.
"Aircraft outside over the years slowly corrode away, they get birds nests in and the water gets in and they won't last.
"They are made of alloys and and they have to be under cover and kept dry in order to survive."
The museum closed in 2000 after it was announced the main hangar was to be demolished.
Volunteers have been campaigning and raising money ever since to get the collection back on permanent display.