Highways Agency urged to solve A417 'missing link'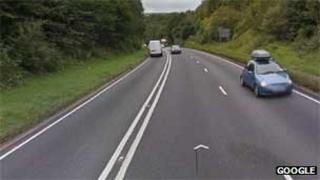 A letter has been sent to the Highways Agency urging it to find a solution to what has been dubbed the "missing link" near Birdlip in Gloucestershire.
The single carriageway section on the A417 continues to be a hotspot for long traffic jams and air pollution, county councillors have written in the letter.
The agency said it was looking at the problem and would reply by 6 September.
In February, new road layout plans for the Air Balloon roundabout bottleneck were dropped by the agency.
The council had agreed to help fund a trial of a new road layout, but withdrew its support, claiming the agency had not "engaged well with residents".
The agency said at the time it was not appropriate to progress further without council support.
This latest letter was written by the council's environment scrutiny committee.
'Waited too long'
Councillor Paul Hodgkinson, a committee member and leader of the council's Liberal Democrats, said: "After the debacle of the 'no right turn' suggestion earlier this year, we are left with ever-increasing traffic jams at the Air Balloon, air pollution issues and a blot on the local economy.
"What this letter is doing is asking the Highways Agency to come up with a proper solution and to engage with councillors and residents. We have waited too long and patience has run out."
He said one resident at the roundabout had already moved out because of health problems caused by the pollution.
An agency spokesman said it would continue to work with the council and other local authorities on options to improve traffic and environmental conditions in the undualled section between Brockworth and Cowley.
"The Route Based Strategies recently announced by the government may present an opportunity to consider these options coherently, in the context of the overall function and economic role of the whole A417-419 route between Gloucester-Cheltenham and Swindon," he said.