Cheltenham's Pittville Park 'fish death' lake guidance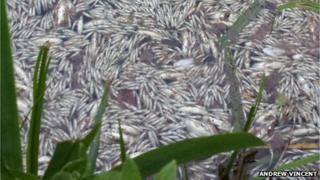 Fish numbers in an ornamental park lake where 25,000 died suddenly might be reduced more often, a council has said.
This is one option being evaluated to avoid the oxygen levels in Pittville Park's lake dropping again to such a point that vast numbers of fish die.
Cheltenham Borough Council, which owns the lake, said it was working with the Environment Agency on its options.
Oxygen levels are still being monitored after about 10% of the lake's fish stocks were killed last week.
A ban on fishing is also expected to continue until 10 August.
'Sustainable levels'
The Environment Agency said the recent hot weather and thunderstorms had contributed to the dropping of the water's oxygen levels.
It has now issued advice to the council to "reduce the likelihood of it happening again".
One suggestion is to keep fish stocks at sustainable levels by removing 10% to 20% of the fish regularly.
The agency has also advised that ensuring access to water pumps, aeration equipment and generators is readily available.
Other advice includes using a dissolved oxygen meter for future monitoring and dredging organic silt from certain sections of the lake.
Janice Peacey, a community ranger at the park, said the council would continue talks with the agency to determine what could be done with the money available.
"We have also been talking to other councils to see what they do to maintain oxygen levels," she said.
"Fish stocks at Pittville Lake were being reduced on a two-yearly rotation but as part of our talks we are going to re-evaluate this to see if it is the most appropriate thing to do.''