Stroud canal Dudbridge locks restoration begins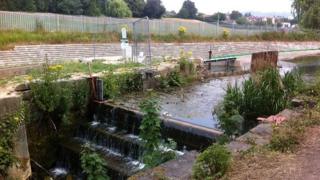 Work has begun on the restoration of two 18th Century locks on the Cotswold Canals.
Contractors have started work on the "missing link" of Dudbridge locks in Stroud.
The £300,000 project will join two sections of water that have already been cleaned and dredged.
The scheme is part of the restoration of the Stroudwater Navigation and the Thames and Severn Canal, linking the River Severn with the River Thames.
Dave Marshall, from Stroud District Council, said: "This is very much a missing link.
"We need to get more canal navigable, more boats using it, more pleasant walks for people, more wildlife corridors and more leisure facilities, all of which the canal delivers."
Dudbridge locks were originally built in the 1770s.
'Historic brickwork'
Their restoration is part of an ongoing £20m restoration of canal between Stonehouse and Stroud, which has been paid for mainly through the Heritage Lottery Fund.
Chris Spencer, from contractor Land and Water, said: "Largely they are original locks as was built.
"We have to go about the work quite carefully. There's historic brickwork and masonry. It has to be done with the right products.
"It's all done with sand and lime mortars which would have been used originally.
"We use as many of the original bricks that we can recover as possible. We try to avoid the use of modern materials where we can."
The restoration of the Cotswold Canals, the seven mile-long (12 km) Stroudwater Navigation and the 29 mile-long (46km) Thames and Severn Canal, will see the connection of the River Thames and the River Severn for the first time in more than 70 years.
Work on the new locks is expected to take 15 weeks to complete,