Water firm appeals to Cirencester users after power cut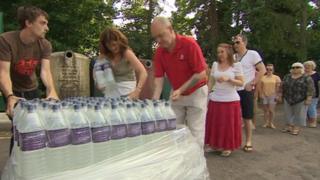 Thames Water has appealed to customers in parts of Gloucestershire to use water sparingly after a power cut.
Some 900 homes in the GL7 and GL54 postcode areas were left without water after the outage at a pumping station.
The water company said the pumps were working again but, due to high demand, water was being drawn faster than the network could be filled.
It apologised for the inconvenience, and said bottled water would be offered at five locations in Cirencester.
The locations are Cirencester Primary School, Victoria Road; Cirencester Rugby Ground, The Whiteway; Beeches Car Park, Beeches Road; Royal Agricultural University, Stroud Road, Cirencester and Cirencester War Memorial, Market Place.