Tewkesbury MP lobbies minister against new homes plan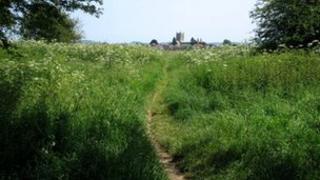 A Gloucestershire MP is lobbying the government against plans to build up to 14,000 new homes in his constituency.
Laurence Robertson, who represents Tewkesbury, says Tewkesbury Borough Council is being forced to approve more than its fair share of new housing.
He said: "Builders are coming in with applications which would ordinarily not be in the local plan."
Three councils are working together to create a local plan for housing need in Gloucester, Cheltenham and Tewkesbury.
"We don't have the actual land space because it's constrained in terms of AONB, it's constrained in terms of greenbelt, constrained particularly in terms of flood plains and flood risk area.
"What the problem is, is getting an agreement between the three councils involved," added Mr Robertson.
He wants the planning minister Nick Bowles to give councils more power to draw up their own plans.
Up to 28,000 new properties will be built over the next few decades across Gloucester, Cheltenham and Tewkesbury.