King's Stanley school appeals 'inaccurate' Ofsted report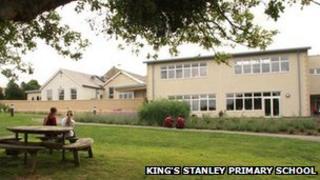 A critical report of a primary school in Gloucestershire has been slammed by parents and teachers as being aggressive, misleading and inaccurate.
King's Stanley Primary School has been rated by Ofsted as inadequate and placed in special measures.
The school was previously rated as outstanding which has led to claims of a political agenda at work to force the school into becoming an academy.
Ofsted said it was independent and "not about furthering any political agenda".
'Out of order'
Teachers and governors have appealed against the Ofsted report, published last week following an inspection in May.
The school said head teacher Barbara Deacon wrote to Ofsted to challenge the accuracy of the report and complain "at what teachers, governors and pupils felt was the aggressive tone of the inspection".
Darren Parris, a parent-governor, added: "There are concerns that this inspection had a political agenda and was more about meeting the national targets set by Michael Gove, the Secretary of State for Education, than assessing the school to give a true reflection of its work and achievements.
"From what we've heard the whole tone and manner of the inspection was way out of order.
"The head teacher, staff and governors do a fantastic job at King's Stanley; many parents just can't believe what's happened."
In response, Ofsted said it did not have a preferred model for schools.
"We are independent and are not about furthering any political agenda," said a spokesperson.
"Our overall objective is to ensure that all children, regardless of the postcode they come from and regardless of whether they attend an Academy, free school or maintained school, have access to a good quality education."
Campaigners against the idea of the school becoming an academy have now formed the Save King's Stanley action group.
Chairman of the group, Alan Bladon, who has two children at the school, said the report was biased, negative and unfair.
"It doesn't reflect the school's results or teaching and this school should not be in special measures," he said.
Mr Bladon added that just two days after the report was published a Department of Education academy broker wrote to the school to say someone would be paying a visit to talk about turning the school into an academy.
"It seems to be engineered to force our school into becoming an academy.
"There was a parents meeting last week with some 100 parents - unanimously they said this was an unfair report and would fight being forced into an academy." he said.
The school has more than 200 children that attend, aged from four to 11, who are taught in seven single-aged classes.