Gloucester Cathedral invites visitors to sign new roof tiles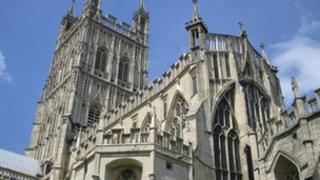 Visitors to Gloucestershire Cathedral are being invited to buy and sign tiles to repair the building's leaky roof.
The work is part of a £750,000 project to restore and conserve the stonework of the south aisle of the cathedral.
The cathedral's "Tile the Aisle" appeal, launched in February, offers visitors the chance to buy a new roof tile for £10 and dedicate it.
The Very Reverend Stephen Lake said: "You can write whatever you want on the back and become part of the cathedral."
In May, three new gargoyles were lifted into position in the south aisle of the cathedral whilst the final phase of restoration is due to be finished in August.
A spokesperson for the cathedral's chapter, they were "confident" the building's roof would also be fully repaired by the end of October.
"There's been scaffolding on the south side of Gloucestershire Cathedral for as long as anybody can remember," said The Dean of Gloucester, The Very Reverend Stephen Lake.
"But by the early autumn for the first time - almost in living memory - the scaffolding will come down."
New roof tiles are being offered to visitors to sign for a donation in the cathedral's south transept on 7, 13 and 14 July.