Town criers compete in national tournament in Nailsworth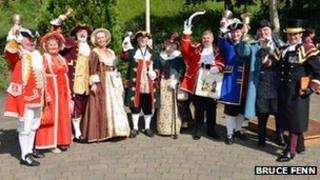 Town criers have paraded through a Gloucestershire town in a national tournament to test their skills.
Nailsworth's town crier Tony Evans said more than 30 town criers from across England and Wales took part.
On Saturday morning, each town crier was crying about their home town. For the afternoon contest, they either did a cry about Nailsworth Poet WH Davies or The Gloucestershire Regiment.
The winner was Mark Wylie, of Calne, Wiltshire.
The competition was judged in Mortimer Gardens in the centre of the town.
The judges for the event were Vernon Harwood of BBC Radio Gloucestershire, Halaina Gillam of Nailsworth Dramatic Society and former town mayor Sue Reed.
The criers were scored in five different categories including volume and clarity of cry, diction and inflection as well as their regalia.
Tony Evans said: "There was a large crowd of people to watch the competition, many staying through the day to watch it and many afterwards were asking when the championships would again return to Nailsworth."
The competition was being run under the ancient and honourable Guild of Town Criers rules, he added.