Naunton gravestones moved for sale of Cotswold chapel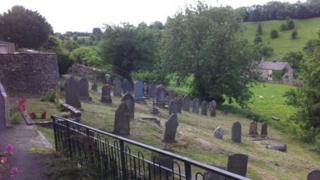 A number of gravestones are to be moved as a 19th Century chapel in the Cotswolds is sold for redevelopment.
Some 45 stones on graves dating back to the mid-1800s will be relocated to allow for the unused Naunton Baptist Chapel to be turned into two houses.
Reverend Fiona Milton said the designated graves were "standard tombstones" and no longer visited.
The human remains within the graves will not be touched and a GPS recording taken of each gravestone.
Rev Milton said a notice had been up for two months about the relocation of the stones and there had not been any response from affected families.
"It happens a lot in graveyards throughout the country where the gravestones are moved to one site and the land is then more accessible and more usable," she said.