Table-dancing MP Mark Harper breaks foot in Soho fall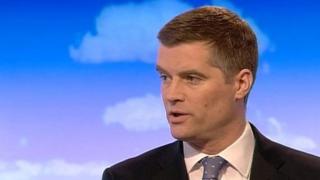 Conservative MP Mark Harper has fallen off a table while dancing in a bar in Soho and broken his foot.
A spokesman for Mr Harper's office confirmed the 43-year-old MP for the Forest of Dean in Gloucestershire had suffered the injury on 12 June.
Mr Harper, who is the Minister for Immigration, is recovering, the spokesman added.
"My wife Margaret was with me but thankfully she's a far better dancer so didn't fall off," Mr Harper said.
His spokesman said Mr Harper would be taking part in a charity run for Cancer Research UK in Lydney at the weekend as planned, despite his foot being in an orthopaedic boot.
Mr Harper is currently in Algiers as part of his work as Minister for Immigration, the spokesman confirmed.