British coastline canoeing record attempt abandoned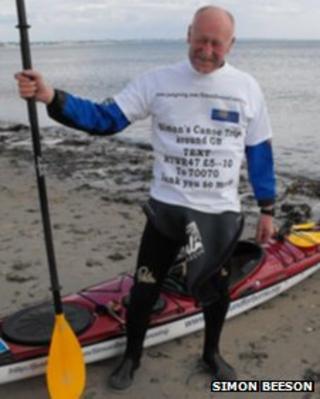 A man who was attempting to become the oldest person to canoe around the coast of Britain has abandoned his journey because of ill health.
Simon Beeson, 65, from Highnam near Gloucester set off from Knowle Beach in Dorset on 15 May. He abandoned his trip in Rhyl on Thursday due to a bad back.
Mr Beeson suffered 86% burns in a chemical accident 20 years ago and was raising money for charity.
He said in a message on his fundraising web page he was "immensely sad".
"Unfortunately... my back is so bad now, I could not pull the boat up the beach yesterday," he said.
"I have decided to stop and asked the team to come and collect me on Saturday.
"This makes me immensely sad as the best bit (Scotland) was not far away."
Before he began Mr Beeson said he hoped to complete the 2,500-mile (4,000 km) journey in about eight weeks.
The canoeist spent 10 weeks in intensive care after he was injured when a barrel of acetone exploded.
He had to learn to walk again after the accident. It took 18 months for him to recover.
The journey was raising money for Dan's Funds for Burns, which offers support to people who have been affected by life-threatening burns and their families.