Ex-stuntwoman Jacquie de Creed's plane death 'accidental'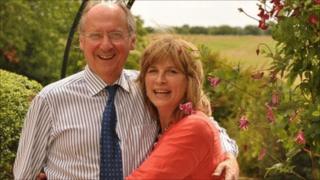 A couple from Gloucestershire, killed when their light plane crashed in the south of France, died as the result of an accident, a coroner has ruled.
James Balmer, 68, and his ex-stuntwoman wife Jacqueline, 54, were flying home from Italy when they crashed in June 2011.
The inquest heard they died when their twin engine Piper PA-39 hit Mont Agel near Monaco.
They were flying in cloud and did not see the mountain until it was too late.
The inquest at Gloucestershire coroner's court in Gloucester heard Mr Balmer, who lived in Whiteway near Cirencester, was a "highly experienced" pilot.
Assistant deputy Gloucestershire coroner Katie Skerrett said Mr Balmer had asked for permission to deviate from his requested flight plan but was refused permission by air traffic control in Nice.
Instead they asked him to take a different route for a reason that was not known, Ms Skerrett said.
The couple were flying in cloud at an altitude of 2,000 feet and Mr Balmer did not see the mountain ahead until it was too late, the inquest was told.
The court was told that Mr Balmer, a former rally driver, went into an "aggressive zoom climb" 10 seconds before impact, but this was insufficient to avoid a collision.
Verdicts of accidental death on Mr and Mrs Balmer were recorded by the coroner.
Under the name Jacquie de Creed, Mrs Balmer performed car stunts including driving a car on two wheels.
According to her website, in 1983 she jumped a car "further than any man or woman in history" breaking the Long Distance Car Ramp Jump Record.