Gloucestershire councillors get £20,000 to fix potholes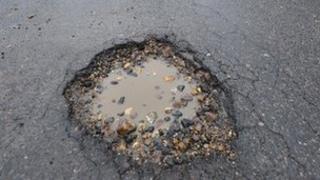 Councillors in Gloucestershire are each being given £20,000 to spend on tackling potholes in their local areas.
The move was announced at a meeting of the full council and will see a doubling of last year's allocation.
It forms part of more than £5m of investment in roads on top of existing budgets.
The county council said, while funds were tight, this would help them target the problems that really matter to local people.
Councillor Vernon Smith, cabinet member for highways, said: "After a hard winter, the condition of Gloucestershire's roads isn't good enough.
"This money will help all councillors fix the problems in their area. By making decisions at a local level it will help us target the repairs that really matter to local people."
Ray Theodoulou, deputy leader and responsible for finance, also welcomed the approach.
"Funds are very tight indeed at the county council at the moment - but that must not stop us investing in crucial services that people in Gloucestershire need," he said.