Cheltenham shopping centre fitted with fake shop-fronts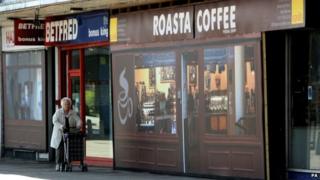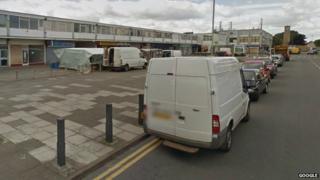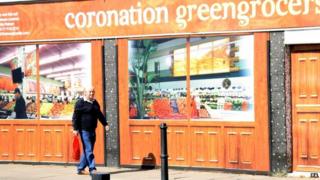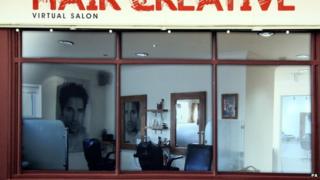 A struggling 1960s shopping centre in Cheltenham has been fitted with fake shop-fronts to make it more attractive.
Some 14 of the 37 shop units are empty near Coronation Square in Hesters Way and five vinyl frontages have now been introduced to the once "vibrant" area.
In 2010, when the recession took hold, trade fell dramatically and the centre's bank, building society and Post Office were all shut.
The centre was bought in May by a group of investors who are now developing it.
'Poor relation'
A spokesman for Savills, which is working on behalf of the owners, said they were genuinely interested in the scheme and wanted to move it on as quickly as possible.
"The owners are a group of West Country-based private investors with a track record of regenerating shopping centres," said the spokesman.
Rather than metal shutters, the fake frontages offer the impression the area has a hairdresser, greengrocer, travel agent, coffee shop and music store.
Councillor Simon Wheeler, a borough and county councillor who sits on the Hesters Way Partnership, said the fake shops had made a "huge difference" to the centre.
"Obviously it is a poor relation to having actual shops there," he said.
"Not long ago it was a vibrant shopping area but when people could not get any money out they stopped visiting," he said.
"There used to be very few empty shops, there was a whole spectrum and a vibrant market twice a week."
City Dressing in Chippenham, Wiltshire, created the five fake shop-fronts for Coronation Square.