Gloucester mosque arson attack: Two men charged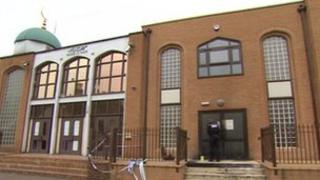 Two men have been charged with plotting to set fire to a mosque in Gloucester.
Petrol was poured around the door of the Masjid-E-Noor mosque on Ryecroft Street and set on fire in the attack shortly before 01:00 BST on Tuesday.
Clive Ceronne, 37, of Redwood Close in Gloucester and Ashley Juggins, 20, of Brooklyn Road in Cheltenham will appear before magistrates on Thursday.
The door of the mosque was left blackened in the attack, which was captured by a CCTV camera.
The two men have been charged with conspiracy to commit arson and have been remanded in police custody.
Community leaders described the attack as "disappointing" and vowed it would not create division.
The attack happened days after an open day was held at the mosque to welcome local people.