Haresfield incinerator firm to appeal against rejection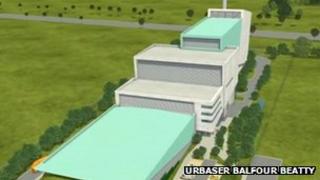 A firm hoping to build a £500m waste incinerator is to appeal against a decision to reject its plans.
In March, county councillors voted unanimously to throw out the plan for the energy-from-waste plant, in Haresfield, Gloucestershire.
Urbaser Balfour Beatty (UBB) has now said it intends to appeal against the decision.
The authority has already signed a 25-year contract with UBB to build the facility at Javelin Park.
'Clear need'
Objectors are unhappy at its size, location, cost, as well as the environmental impact and the health implications.
Although the plans had previously been recommended for approval, the council received 4,000 letters of objection and only two in support.
Javier Peiro, project director for UBB, said: "We believe that the application is in line with all relevant planning policy and should receive planning permission.
"Given the recommendation of officers to approve the application, the allocation of the site within the adopted Waste Core Strategy and the clear need for the scheme, we have decided to lodge an appeal with the secretary of state."
Mr Peiro added the firm was committed to delivering "the best possible solution" to deal with Gloucestershire's residual waste "as reliance on landfill is unsustainable both in terms of its environmental impact and economic cost".
The chief executive of Gloucestershire County Council, Pete Bungard, said legal advice had been taken and the authority had no reasonable grounds to refuse UBB the right to submit an appeal.
"The planning inspectorate will now appoint an independent inspector and a planning inquiry will be held to determine the outcome of the appeal," he added.
Gerald Hartley from the GlosVAIN campaign group said protesters were "up and ready" for the planning inquiry.
"Many, I'm sure, will be thinking, 'why do we have all this bureaucratic nonsense and why can't common sense prevail?'," he said.
"Sadly, that never seems to be the case."