Gloucestershire man sentenced for zoo owl thefts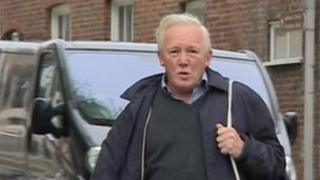 The former owner of a bird-of-prey centre has been given a suspended prison sentence for stealing rare owls.
Keith Beaven, 68, of Staunton near Gloucester, was convicted last month of stealing six owls and also illegally selling three protected black kites.
He tricked zoos into thinking he ran the National Birds of Prey Centre near Newent despite having sold it in 2008.
Beaven was given a 40-week sentence, suspended for 18 months, at Gloucester Crown Court.
He was also ordered to pay over £16,000 in costs.
The trial previously heard that Beaven, who bought the centre in 2004, had deceived Paignton Zoo in Devon and zoos in Germany and the Czech Republic.
'Falsified statements'
Gloucestershire Police said he had abused his former status as well as his membership of the European Association of Zoos and Aquaria to source and sell birds illegally.
Detective Constable Grace Samuel said Beaven took advantage of a goodwill agreement between various zoos in the UK and Europe in order to make money from the sale of the birds he acquired.
"This type of behaviour flies in the face of the conservation and educational efforts that the gifting and loan of these birds were intended for," she said.
"Some of the birds that Mr Beaven was profiting from are classed as Annex 'A' endangered species, which are subject to the highest level of international protection.
"In some cases he had falsified statements to the authorities in order to obtain permits."
'Bad for falconry'
The centre was sold to Beaven in 2004 by Jemima Parry-Jones MBE, whose family had established it in 1967, before she emigrated to the US.
However the venture was unsuccessful and she returned to the UK and bought back the centre in 2008, renaming it the International Centre for Birds of Prey.
"I have to say that I'm really glad this is all over and done with," said Ms Parry-Jones.
"I had two huge concerns about all this, one that it would affect the name of the centre - which has been a part of my family for 46 years - and the other was that it was really bad for falconry."