Tony de Bruyn: Cotswold Airport crash pilot thanks medics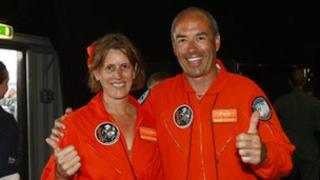 A Belgian pilot who was badly burned in a crash at an airport in Gloucestershire has returned to thank people for their "support and prayers".
Tony de Bruyn, who flies with a display team, was injured during a practice flight at Cotswold Airport last July.
The 47-year-old was treated by medics from Wiltshire Air Ambulance, South Western Ambulance Service and spent two months in Frenchay hospital burns unit.
Money raised by his team has been presented to medical staff.
'Stuck in plane'
Mr de Bruyn, who flies with the OV-10B Bronco Demo Team, suffered serious burns and back injuries when his plane came down during a practice manoeuvre on 10 July.
He was in the UK as part of the Royal International Air Tattoo at nearby RAF Fairford.
He said: "I sustained some burn injuries because I couldn't get out of the plane. I was stuck with my left leg - it took three to four minutes before I got out.
"As soon as I got out everything went like clockwork. Cotswold Airport did a fantastic job getting all the emergency services there."
Mr de Bruyn praised the intensive care and burns unit staff at Frenchay hospital in Bristol.
He and his team returned to visit the hospital as well as South Western Ambulance Service in Bristol - formerly Great Western Ambulance - and Wiltshire Air Ambulance in Devizes.
He said: "All those people have done a brilliant job in making my survival happen in the best possible way."
A UK Bronco Fan Weekend event has been organised at Cotswold Airport this weekend o thank everyone involved in the rescue following the crash.
The AAIB is investigating the cause of the crash.