Kingsholm garden dig exhibition shows area's past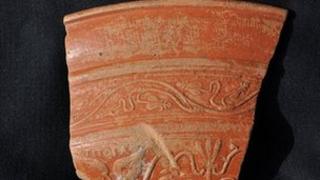 An exhibition is being held in Gloucester to display Roman artefacts and other finds, uncovered in gardens as part of a history project.
The Kingsholm area was the focus of History on Your Doorstep, a project run by Gloucestershire County Council.
Kingsholm was the site of the first Roman military fort in Gloucester.
Finds ranged from early Roman pottery, 16th century clay pipes, Georgian glass bottles and a tube of hair dye from the 1960s.
Fourteen test pits were excavated in the gardens of Kingsholm residents.
About 1,000 local volunteers were involved in the project overseen by the council's archaeology department.
The project was funded through a Heritage Lottery Fund grant.
The council's Will Windsor Clive said: "This worthwhile project has unearthed some fascinating finds.
"I encourage residents to visit the exhibition and see what's been hiding beneath our city."
The exhibition runs at Gloucester City Museum and Art Gallery until 7 July.