Ministers 'sympathetic' over cross-border healthcare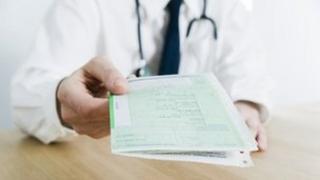 Senior ministers are "deeply sympathetic" to concerns over cross-border healthcare changes affecting Forest of Dean residents, an MP said.
The Welsh government wants to stop Welsh-registered patients in the region being referred to hospitals in England.
A meeting took place between the Health minister, Anna Soubry, Welsh Secretary, David Jones and Forest of Dean MP Mark Harper, who has taken up the matter.
Mr Harper added the Health minister was now trying to find a solution.
'Special requests'
He said: "The minister is investigating why we have ended up in the unacceptable situation that we are currently in and wants to find a way to make sure that people in the Forest of Dean, and indeed up and down the border, are able to get the choice and standard of healthcare they have a right to expect."
The issue affects patients who are registered with three Welsh GP surgeries.
These are Wye Valley Practice in St Briavels, Town Gate Practice in Sedbury and Vauxhall Practice in Tutshill - which are registered in Wales - have to be referred to hospitals in Wales.
Campaign group Action 4 Our Care said by being forced to go to a hospital in Wales it would create clinical, waiting time and travel difficulties.
The group's spokesman said: "Action 4 Our Care recognise that the minister will wish to correct any similar problems for English residents along the Welsh border, but this should not delay tackling the obvious changes needed in Gloucestershire."
The group has also called for NHS England to ensure the Gloucestershire Clinical Commissioning Group, which is in charge of healthcare in the area, to start discussions with the Aneurin Health Board.
A spokesman for the Aneurin Health Board said: "We have been able to reassure people that we are allowing patients to keep continuity in services they have always accessed.
"Also, any emergencies will simply go to the closest unit so that patient care isn't compromised.
"Furthermore cases will always be looked at on an individual basis and when special requests are being made 90% of these are being processed with no difficulty or delay.
"The policy only relates to routine hospital treatment, therefore it includes a number of specified exceptions."