Charity ride from Broadwell reaches Nordkapp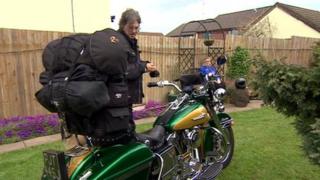 A biker on a 4,800 mile (7,725km) charity ride has reached the most northerly point in mainland Europe.
Pete Tyler, 54, is riding his 1978 Harley-Davidson to raise funds for motor neurone research after his wife was diagnosed with the condition.
Since leaving his home in the Forest of Dean on 11 May, he has travelled 2,600 miles through nine countries.
Mr Tyler said he "could not believe" he had made it to Nordkapp, Norway, at the edge of the Arctic Ocean.
"There's been loads of wind and rain and my gloves froze one day.
"I even had to make an emergency stop to avoid a reindeer blocking the road," he said.
Mr Tyler chose to raise funds for the Motor Neurone Disease Association (MNDA) after his wife, Jan, was diagnosed with the disease in 2006.
Motor neurone disease is a condition which damages the nervous system.