Royal Mail sorting office in Gloucester put up for sale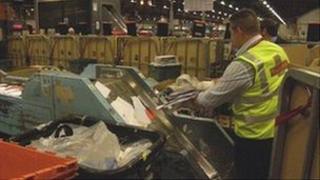 A Royal Mail sorting office in Gloucester which is in the process of being closed has been put up for sale.
An advert for the Eastern Avenue site has been placed in a subscription-only magazine, but it is not known how much money Royal Mail wants for it.
The Communication Workers Union (CWU) said the timing of the advert could not have been worse as talks continue over the future of workers at the site.
Royal Mail said it had been clear since 2012 that a sale would be undertaken.
'Disgusted'
Paul Trehearne, branch secretary of the CWU, said: "We are right in the middle of asking the employees, and our members, what options they would like us to look at over the next six weeks.
"That's why we were pretty surprised and disgusted at what Royal Mail has done with the sale of the site.
"We accept that the land is going to be sold and perhaps redeveloped, but we have got somewhere in the region of 400 people who don't know if they have got a job in Gloucestershire, or if they have to travel to Bristol, or if they are going to get redundancy, and they are not going to know that information for maybe another eight weeks."
Royal Mail responded: "The Mail Centre will remain open until 2014 and the sale process, which is being managed by a third party, will not impact Royal Mail's commitment to ensuring the best possible outcome for all our colleagues who are affected by the closure."
It was confirmed last year that the Gloucester sorting office would shut and its mail processing operations transferred to Bristol, leaving some 380 jobs at the site under threat.
Some other elements of processing and collections work will be moved to other Royal Mail sites elsewhere in Gloucestershire.