Rick Wakeman Gloucestershire concerts 'will be unique'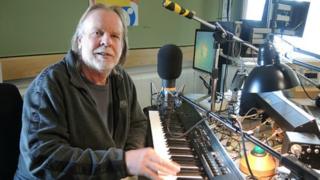 Keyboard wizard Rick Wakeman has said concerts to be performed in Gloucestershire this weekend will never be repeated because "it's too costly".
The prog rock musician will play at Blackfriars Priory in Gloucester and at The Centaur in Cheltenham as part of a Medieval Mystery Play Festival.
The Cheltenham gigs will feature Cheltenham Symphony Orchestra and a cathedral choir.
"They are going to be unique. They're not going to be done again," he said.
At two small concerts at Blackfriars Priory on Saturday evening, Wakeman will perform with two of his sons, Oliver and Adam, and his daughter Jemma.
Two further concerts at The Centaur on Sunday and Monday will feature Cheltenham Symphony Orchestra and a cathedral choir playing pieces of music from his three famous 1970s albums - The Myths and Legends of King Arthur, Journey to the Centre of the Earth and The Six Wives of King Henry VIII.
'Unique show'
The former Yes keyboard player said: "There's music and arrangements of pieces with the orchestra that have never been done before.
"We've got a completely different unique show. It certainly won't happen again in this country. It's taken an awful long time and an awful lot of work.
"The show that we're doing at the Centaur, it can't be done again. It's too costly, to be brutally honest.
"We'll be doing Starship Trooper [by Yes] with the ending done by an orchestra. That's never been done before.
"It's going to be sad on Monday night when we play the last chord.
"I just hope it's the right one."
Originally it was announced the concerts would be staged at Gloucester Rugby's Kingsholm stadium but organisers claimed they changed the venue after deciding it was unsuitable. The rugby club denied that a deal to stage the concerts had ever been reached.
Fans from as far afield as the USA, Australia and Russia are anticipated to attend.