Gloucestershire County Council votes 'no' to badger cull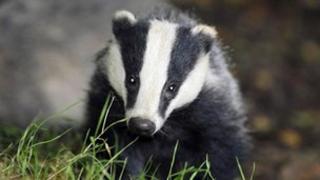 Gloucestershire County Council is to write to the government objecting to a badger cull due to take place from next month.
Ministers want a cull to take place in west Gloucestershire and west Somerset in a bid to halt the spread of tuberculosis to cattle.
Two of the county's district councils have already voted to reject the cull.
It is due to happen on land owned by the council but the defined area has been kept secret.
The government says the cull can begin from 1 June.
Farming Minister David Heath said he was disappointed at the council's decision as "TB is having a devastating effect on farmers".
At a full council meeting on Wednesday, 25 politicians voted for a motion to object to the cull, with 19 voting against and seven abstentions.
The motion raised concerns the cull would be "cruel and ineffective" and the government would better serve farmers by investing in cattle and badger vaccinations.
The council has said it will write to Environment Secretary Owen Paterson, as well as Mr Heath.
'Scientific opinion'
Mr Heath said: "It's disappointing that the council does not want us to do all we can to save Gloucestershire farmers from this disease.
"The science is clear that culling will help to reduce bovine TB as one part of our overall approach to eradicating this disease.
"We fund a badger vaccination project in Gloucestershire, we have tightened controls to stop the spread between cattle, and are working with farmers to limit contact between cattle and badgers."
Liberal Democrat councillor Klara Sudbury, who proposed the motion, said: "I am delighted that on this occasion the county council has recognised the strength of scientific opinion which says that the proposed pilot badger culls will not help tackle bovine TB in cattle."
"There is also huge public opinion against the planned trial culls as the support for Brian May's petition has shown."
Tewkesbury Borough Council and the Forest of Dean District Council previously voted to reject the cull.
Animal welfare and wildlife campaigners have opposed the cull, which will allow wild badgers to be shot by trained marksmen when the animals venture out of their setts at night.
The RSPCA, which opposes the cull, said it wanted to help fund vaccination.