Gloucestershire disability grants website 'used across UK'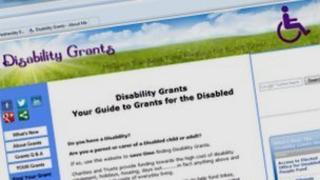 A website set up to help disabled people and their families find grants is now being used across the UK.
Julia Tyrrell, from Stonehouse, Gloucestershire, set up disability-grants.org after finding it difficult to access funding for specialist equipment for her son.
Details on the website include where to go and how long it may take to apply.
It includes a directory of disability groups and is used by councils, charities and schools.
Mrs Tyrrell, who set up the website three years ago, said that when her son was diagnosed with cerebral palsy she had "no idea" how much it was going to cost them.
"Nothing was simple and if you actually put a disabled or special needs label on something it costs so much more."
She said that the website now gets over 20,000 unique visitors a month from across the UK.
Deborah Livingstone, from Gloucestershire Parent Carers, said: "The website is fantastic. Raising a child with a disability can cost up to three times as much as raising a non disabled child.
"There are funds out there but it just takes so long to find out what you need."