Dying Gloucestershire man's access-to-drugs campaign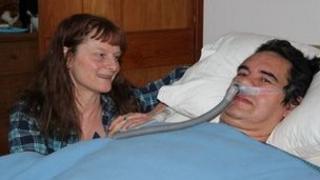 A man with motor neurone disease (MND) has begun a campaign to enable patients to gain access to experimental drugs.
Les Halpin, from Tetbury in Gloucestershire, wants terminally ill patients to be able to join drug trials in return for giving up the right to sue if there are any side effects.
The Conservative MP for The Cotswolds, Geoffrey Clifton-Brown, is to lead a discussion in Parliament on the matter.
Mr Halpin was diagnosed with MND in May 2011.
It was then he learnt that the medication he was being given had been licensed 20 years previously, and no new drugs had been approved since then.
'Significant development'
He hopes his campaign will help speed up the process and lead to new drugs and therapies being administered for certain conditions much sooner.
Mr Halpin said: "For those of us with life-threatening or rare illnesses, the 'risk-return' ratio is different, and drug regulations should be adapted to allow such people to try out new drugs at an earlier stage of development, as well as innovative new combinations of drugs.
"We also want all clinical trials data to be shared publicly as this is the only way we are going to speed up the knowledge process."
Mr Halpin's calls form the latest stage of a campaign called Empower: Access to Medicine, which was founded to put patient opinion at the centre of discussions about the law and ethics around drug development for life-threatening conditions.
Mr Clifton-Brown said: "This latest stage is a significant development in the Empower campaign and is testament to Les's conviction that this is a campaign that could positively impact significant numbers of patients and their families here and worldwide."