Gloucester Prison inspectors call for national improvements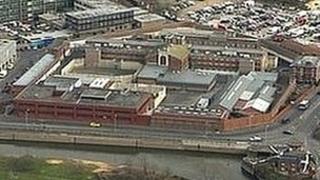 Gloucester Prison inspectors have urged the government to maintain better living standards at prisons.
Accommodation at the city's prison, which shut last month, was "amongst the worst in the prison system" according to its independent monitoring board.
Its final report calls on the justice minister to avoid a similar situation where poor conditions go unremedied "year after year".
A spokesman for the Ministry of Justice said its estate was kept under review.
'Lack of privacy'
For a number of years HMP Gloucester's independent monitoring board (IMB) had been highly critical of the jail's Victorian accommodation.
Issues previously highlighted included a lack of privacy for prisoners and inmates in shared cells having to eat close to in-cell toilets.
Now, in its final report, the IMB recognised that the closure of the Grade II* listed building had "rendered superfluous" its longstanding concerns.
It added: "However, the board would urge the minister to consider what mechanisms are necessary to ensure that it will no longer be possible for such accommodation... to be given such a low priority in expenditure decisions that the conditions are allowed to remain unremedied for year after year after year."
The Ministry of Justice spokesman said: "We are replacing old and inefficient accommodation with new places that provide better value for the public and are suitable to a modern prison estate which can work more effectively to reduce reoffending.
'Old and uneconomic'
"The entire estate is kept under review to ensure that it meets the needs of the prison population and provide the best value for money for the taxpayer."
The closure of Gloucester Prison and six others, and partial closure of a further two facilities, was announced by the Ministry of Justice in January.
It said it expected 2,600 places from "old and uneconomic" prisons to be lost and an annual saving of £63m to be made from running costs.
Other aspects of prison life at Gloucester were highly praised by the IMB, particularly the "impressive relationship" between staff and inmates.
Its report highlights that this was "greatly facilitated by the relative smallness of the prison".