Gloucestershire anti-gang taskforce could see evictions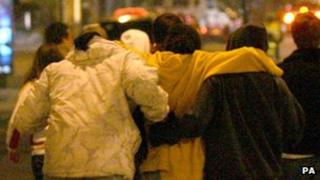 Parents of young people involved in gangs in Gloucestershire have been warned they risk losing their council accommodation.
A new task force has been set up which indentifies potential gang members as vulnerable individuals and potential victims - and aims to help them.
Initially police would speak to parents but if this did not work there were a number of other options available.
Police admitted eviction from council homes would be "an extreme option".
The partnership, which includes the police and city and county councils, hopes to get information from schools and other organisations to spot warning signs early and offer assistance.
'Not cool'
Insp Neil Smith said other options included getting reformed criminals to speak to gang members and explain what was likely to happen to them if they did not change their ways.
"Society... must stand up and let youngsters in the city know that this isn't a cool way of life or one that leads to respect or riches," he said.
"This is an educational approach backed up by some very meaningful carrots and sticks."
He said young people "actively involved in gang related activity" would be visited and "offered opportunities for change" but in the worst circumstances parents living in council or housing association accommodation would be warned if their children did not change their behaviour they may lose their home.
Parents would get a warning and be given the chance to encourage the youngsters to change their behaviour.
"It is an extreme option and not something that anyone would want to do," he said.
"But when you sign your tenancy agreement, part of it is around your activity, your behaviour, not committing criminal offences or acts of anti-social behaviour, and these are things that under some circumstances could out your tenancy in jeopardy."
"If - worst case scenario - that behaviour didn't change and that young person went on to commit criminal offences and is charged, then we could then give them a formal warning and could apply for eviction if we wanted to."
He said each case would be taken on its own merit and looked at individually.
The Avenger Task Force (ATF) was set up earlier this year after officers from the Gloucestershire force visited Greater Manchester Police to learn from their experiences of gang management.