Gardener Ralph Hoare, 104 shares tips on Twitter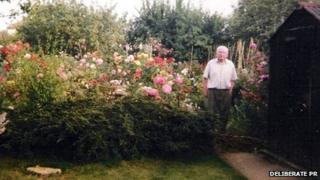 A green-fingered centenarian, said to be Britain's oldest gardener, is taking to Twitter to share his horticultural tips.
Ralph Hoare, from Gloucestershire, still enjoys his passion for growing vegetables and cultivating flowers at the age of 104.
He took up gardening in 1914 and cites the activity as key to his long life.
Mr Hoare will answer questions posted with the hashtag #askralph from Tuesday.
The owner of around 200 rose bushes said he allowed for his weak knees by using a hoe for weeding and a grabbing tool for picking up items from the ground.
'Willpower to continue'
He also secures the help of his great-grandchildren, aged six and four, who he said were already proficient in deadheading his roses.
The former bank worker and RAF veteran, who was born in Plymouth and grew up in Devon, said: "I have just sent off my order for my annuals.
"The seed potatoes are sprouting in the spare bedroom and I am waiting for some dry weather for the onion sets.
"The thought of my garden in bloom gives me the willpower to continue through the winter.
"Gardening keeps me on the move and my mind active."
Mr Hoare said he had kept the garden at his Longlevens home himself since the death of his wife Dorothy in 2007.
"She used to do all the weeding and I did the planting, pruning and digging," he said.
The couple, married in 1940 at St John's Church in Taunton, Somerset, had two children and Mr Hoare is now grandfather to six and great-grandfather to a further six children.
He said: "Now that my knees are not so good, I have to garden standing up and by asking other people to do things for me.
"I use a hoe for weeding and a grabber for picking things up from the ground. I also spend more time just wandering through the paths, admiring and smelling the roses and making mental notes of what has to be done."
Mr Hoare was identified as the UK's oldest active gardener by retailer Furniture Village which led a hunt for an expert to respond to the nation's horticultural questions.
Members of the public can put questions to Mr Hoare via the Twitter account @OfficialFV