Sudeley Castle artefacts 'point to undiscovered Roman temple'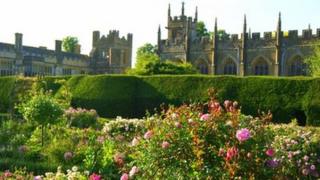 The ruins of a Roman temple and villa could be hidden in the grounds of Sudeley Castle, experts have said.
The claim follows the recent discovery of a Roman stone sculpture in a castle cupboard, coupled with the further discovery of a Roman column.
Archaeologist Rev Prof Martin Henig believes the artefacts, which date from AD150 to AD300, point to an undiscovered temple at Stancombe Wood.
The Gloucestershire castle is known for its connections to Henry VIII.
The sculpture of a Roman altar god was originally found during an archaeological dig on the estate in 1875.
But it was later lost and, after being missing for more than 100 years, turned up recently during a clear-out of the castle's basement.
'A desirable place'
In addition, the castle team has identified the remnants of a Roman column which was being used to prop open a door inside the stately home.
According to Prof Henig, professor at the Institute of Archaeology, University College London, the column would have only stood about 40cm (16in) tall on the dwarf wall of a portico, possibly of a temple or of a private house.
He said such small columns were very unusual in the region and therefore indicate the existence of a building of unusual sophistication in or around Sudeley.
Another archaeologist, Dr Patricia Witts, said there was evidence to suggest that an oil pipeline installed in the area in 1985 cut through two Roman buildings somewhere between Stancombe Wood and Spoonley Wood.
She said: "This area was clearly a desirable place to live. We can imagine the area around what is now Sudeley Castle dotted with prestigious Roman dwellings."
Among those dwellings could be an undiscovered temple at Stancombe Wood, according to Prof Henig, who is an expert on the Romans in the Cotswolds.
'More to discover'
He said that one would expect to find a spiritual stone relief, such as the one found, in a temple.
"We are finding that villas quite often included temples on the estate and our Apollo Cunomaglos suggests that there may be more to be discovered at Stancombe," he said.
He added: "It is exciting to think what might be found. The famous Chedworth Roman villa lies only a few miles to the south of Sudeley and it is known that there was a temple nearby, as well as other villas in the vicinity.
"Perhaps Sudeley was similar."
Sudeley Castle was built on its current site in 1442 and is now home to Lord and Lady Ashcombe, Henry and Mollie Dent-Brocklehurst and their families.
It was once home to Queen Katherine Parr, the last wife of King Henry VIII, who is buried in the castle's chapel.