Gloucestershire incinerator: Lib Dems say 'wait until after local elections'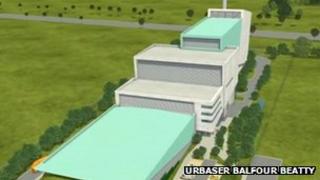 Politicians against an incinerator in Gloucestershire which was rejected by planners want any progress on it to be paused until after the local elections.
Plans for the £500m waste incinerator at Javelin Park near Haresfield were thrown out by the council last week.
Liberal Democrat councillor Jeremy Hilton has written to the Conservative-led council requesting that "no further work be done" on the proposal until a new administration starts.
Local elections will be held on 2 May.
Gloucestershire County Council had already signed a 25-year contract with Urbaser Balfour Beatty (UBB) to build the energy-from-waste plant at Javelin Park, close to junction 12 of the M5.
UBB said last week that it was "minded" to appeal against the refusal for planning permission.
'Community support'
In his letter, Mr Hilton has also asked the council to instruct UBB not to proceed with a planning appeal.
Mr Hilton said: "We don't want the officers of the county council to progress any work on the project until the new administration of the council council, that will be formed after the elections, has had time to consider the implications of the refusal of planning permission by the planning committee."
The rejection, on 21 March, was one of the last major planning decisions to be made by the authority before the local elections on 2 May.
Councillor Stan Waddington, the Conservative cabinet champion for waste, said the decision was out of the council's hands.
He said: "No work is taking place at the moment and, although it is a matter for the applicant, I very much doubt this issue will be progressed at all before mid-May."
The Labour county councillor for Stonehouse, near Javelin Park, said the community support against the plans needed to be acknowledged.
Councillor Lesley Williams said: "If [the plans] can be reconsidered when we have a new council I think that would be a good thing.
"Meanwhile we will be attempting to understand the terms and conditions that have been applied to this particular contract."