Self-harm up by 80% in Gloucestershire, says NHS trust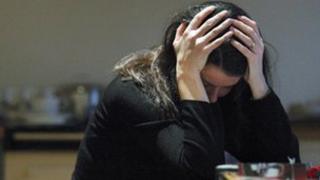 The number of self-harming incidents in Gloucestershire has risen by 80%, according to the NHS 2gether trust.
During 2011-12, a total of 1,015 incidents were recorded by the NHS foundation trust compared to 612 incidents during 2010-11.
A spokesman for the trust said there could be "a number of reasons" behind the increase and has urged those affected to seek medical advice.
The NHS said cases have also risen nationally in the past five years.
'Family breakdown'
NHS figures have shown there were 94,000 cases of self-harm nationally in 2007-08 and 110,960 cases during 2011-12.
"There are a number of reasons why the figures show an increase. However a vast majority of self-harm incidents we report are attributed to low intensity, high frequency acts such as an inpatient slapping themselves," the trust spokesman added.
"This is classed as 'self-harm' because it is an activity deliberately inflicted on themselves.
"We are offering appropriate support to these individuals, as well as treating a small number of service users who cause more serious deliberate harm to themselves."
Ceri Jones is a freelance practice teacher in social work and has worked with people who self-harm.
Ms Jones said: "We do live in unsettled times and I think for younger people in particular the breakdown in family that is going on and the economic crisis that we're in has put a lot of people under pressure.
"A lot of younger people know about self-harm so there could be some peer element there as well."
In the county, help can be obtained through the NHS 2gether Foundation Trust, which provides mental and social health care for Gloucestershire and Herefordshire.
There is also a helpline run by the charity Rethink.
Angela, 65, from Gloucestershire, started to self-harm when she was a little girl, which she says began because of her poor relationship with her father.
Although help can be obtained through mental health services, Ms Jones called for more targeted help and investment in the area.
"Self-harm needs a lot of time-intensive work - there are a lot of deep issues behind the self-harm and that needs a therapeutic approach and that needs money," she said.