Berkeley power station: Final two boilers removed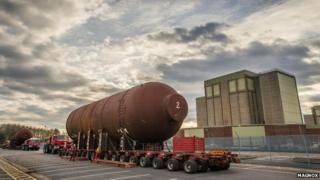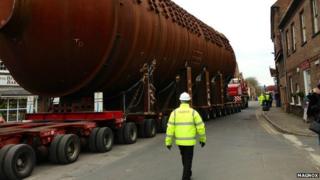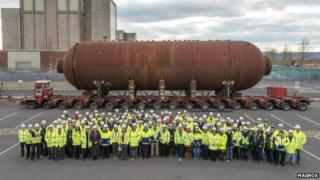 The last remaining 300 tonne boilers have left the former Berkeley nuclear power station site.
In total, 15 of the giant steel tanks have been removed and the final two have now begun their 1,000 (1,609km) mile journey to Sweden for recycling.
Specialist company Studsvik paid about £23m for the contracts to remove and recycle the 21m-long (69ft) vessels.
In 1989, Berkeley became the first commercial nuclear power station in the UK to be decommissioned.
Its twin reactors were shut down following 27 years of operation.
The removal of the boilers, which were used as heat exchangers, is a major visible landmark of the site's decommissioning but the entire process will continue for many more years.
It will not be until sometime after 2070 that the site is expected to be given final clearance.
The next steps include retrieving nuclear waste material and transferring it into an interim storage facility which is currently being built at the site.