RAF Fairford protesters win legal battle against police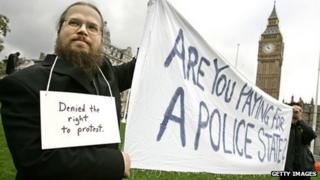 Anti-war campaigners whose coaches were prevented from joining a mass rally against the Iraq war have won their legal battle against police.
Up to 159 protesters were onboard coaches which were stopped from reaching RAF Fairford, in Gloucestershire, in March 2003.
A judge has ruled that police violated their rights following a hearing of 12 test cases.
Gloucestershire Police has apologised for its actions.
The attempted rally came two days after coalition forces launched raids on Iraq from the base.
Police stopped the buses at Lechlade, detaining the group on the coach and sending them back to London under heavy police escort.
'Humiliating circumstances'
They were not allowed to stop at service stations to use the toilet or buy food and drink along the way, with many forced to use plastic containers to relieve themselves onboard.
Judge David Mitchell said the campaigners had endured "humiliating circumstances" and many were left feeling intimidated by the police's "oppressive manner".
In a ruling delivered at Central London County Court, he said that Gloucestershire Police breached protesters' rights to freedom of expression and freedom of peaceful assembly.
The High Court and Court of Appeal had already ruled police acted unlawfully in holding protesters on the coaches.
Describing the group, the judge added: "The vast majority of them - as this case has proved - were decent, hard-working people who had never been in trouble with the police.
"Surely the police officers on the ground must have realised that they were not dealing with coaches packed with hard line anarchists?"
'Lessons learned'
Speaking outside the court, one of the claimants, Jesse Schust, 41, said: "For me it's a tremendous relief to have a vindication after 10 years that the treatment that we received from the police was wholly unjustifiable."
Saimo Chahal, of law firm Bindmans, which represented the group, said that when the activists boarded the coaches, they had little idea their rights would be "violated on a huge scale and less still that their journey to secure justice from the police force responsible would take a decade to resolve".
She said: "The police flouted the law and showed scant regard for the democratic process."
Chief Constable Suzette Davenport, of Gloucestershire Police, said: "The policing of protests has moved on significantly since 2003, both locally and nationally, and the lessons we have learned have contributed to how protests are managed nationally.
"On behalf of Gloucestershire Constabulary I apologise to those who intended to protest peacefully and anyone who suffered any discomfort whilst on coaches for a long period of time."