Tewkesbury residential school for autistic children opens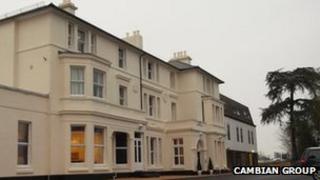 A new residential specialist school for children with autism has opened near Tewkesbury.
The £9m Southwick Park School, part of the Cambian Group, will offer in-house therapy all year round for seven to 19 year olds.
Jason Goddard, head teacher, said the school would be creating some 150 new jobs over the coming months.
It is not known how the fees, which are worked out on an individual basis, will compare with state-funded schools.
Gloucestershire County Council maintains nine state-funded special schools and three academies, funding a total of 1,068 places for children.
'Safe environment'
Mr Goddard said his school was different because it would open every day, 52 weeks of the year, unlike state-funded schools which operate for 38 weeks of the year.
It will have 40 places for students.
He said it was a "huge, and very emotional decision" for parents to place a child into residential care out of the home.
"There comes a point when they want that support, knowing they have got that environment which is safe, secure, and a home essentially with a facility that provides them some really clear outcomes which allow their child to become as independent as possible," he said.
Steve Huggett, director of the Autism Education Trust, said local authorities do not run facilities providing 52-week placements because there are so few people who need this help, so they tend to be run privately.
He said individual placements in such places could cost more than £150,000 per year.
At Cambian Southwick Park, the severity of autism and learning difficulties among students will vary.
The school currently employs 38 members of staff, which is likely to increase to 200.
Future recruitment will include therapists, cleaners, chefs, housekeepers, carers, teachers and farm and outdoor workers.